Louis Vuitton has long been a favorite brand of women who enjoy fine purses and accessories. However, there is a growing variety of Louis Vuitton for men merchandise. The same high-quality stylings are available in men's ties, cufflinks, wallets, sunglasses, shoes, belts, clothing, watches, and other accessories. This makes for very unique, lasting merchandise that will impress the man who has everything.
Best Bets From Louis Vuitton For Men
This elegant Damier Gold Tie is great for a wedding or an evening party. The beautiful tie is a blend of silk and metal to create a discreet gold sheen. When paired with the Damier Tie Clip, you will have a winning combination of class and style.
The modern, silver Louis Vuitton for men Damier Tie Clip is perfection done right. This palladium-finished brass clip adds a final touch to a suit and tie ensemble. This accessory has the iconic "grain de riz" pattern and a signature "Louis Vuitton Paris" signature engraved, making it a bold statement piece.
If you are getting ready for a date or a business meeting, then the Champs Elysees Cufflinks will be a perfect to complete your look. The design is inspired by the striking metal walls of the Louis Vuitton Paris Store. These elegant steel cufflinks are signed with engraved monogram flowers and an LV logo.
Golf anyone? This Andrews Golf Kit name originates from the University of Saint Andrews, which is the most prestigious and oldest golf club. This traditional golf kit features a monogram canvas, metal hook for easy transportation, a wrap around zip opening and silver color metal snap hook. The Andrews Golf Kit comes with three golf balls and four tees. This is the perfect gift from Louis Vuitton for men teeing off at a luxury golf club.
If you like playing table tennis, then this Ping Pong Set James set is for you. This sporty set from Louis Vuitton for Men includes two professional designed wood ping pong paddles and regulation balls in a custom holder. This ping pong set comes with a leather Louis Vuitton monogram case. This ping pong set is compact and convenient to carry anywhere around the world.
These black show-stopping 1.1 Millionaires Sunglasses have a square shape and a color metal monogram pattern on the top bar. Not only are these sunglasses chic, but they also provide UV protection and filters. These sunglasses feature LV initials on lenses and temples and have a gold color metal S-lock hinge. These are perfect to pair with your Giant Damier Waves Monogram Flannel Shirt.
This masterfully constructed luxury Canvas Foosball Table features gold color hardware and hand painted players. This ultra-luxury foosball table has sleek handles that are covered in cowhide leather for a comfortable grip. The table is available in three colors: monogram eclipse, graphite and monogram. This unique gift from Louis Vuitton for Men will be a great addition to his man cave.
This comfortable, contemporary moccasin in Damier embossed calf leather features a rubber sole and a stylish metal LV initials accessory. This iconic, hand-stitched, comfortable moccasin can be paired with Louis Vuitton shorts or a pair of LV jeans.
This fully reversible, iconic belt has a brass buckle that is brushed with a ruthenium finishing. This chic, yet masculine, belt from Louis Vuitton for Men features canvas on one side and leather on the other. This belt can be dressed up or down. You can pair it with a pair of a Regular Denim Pants for a classy, yet informal, look.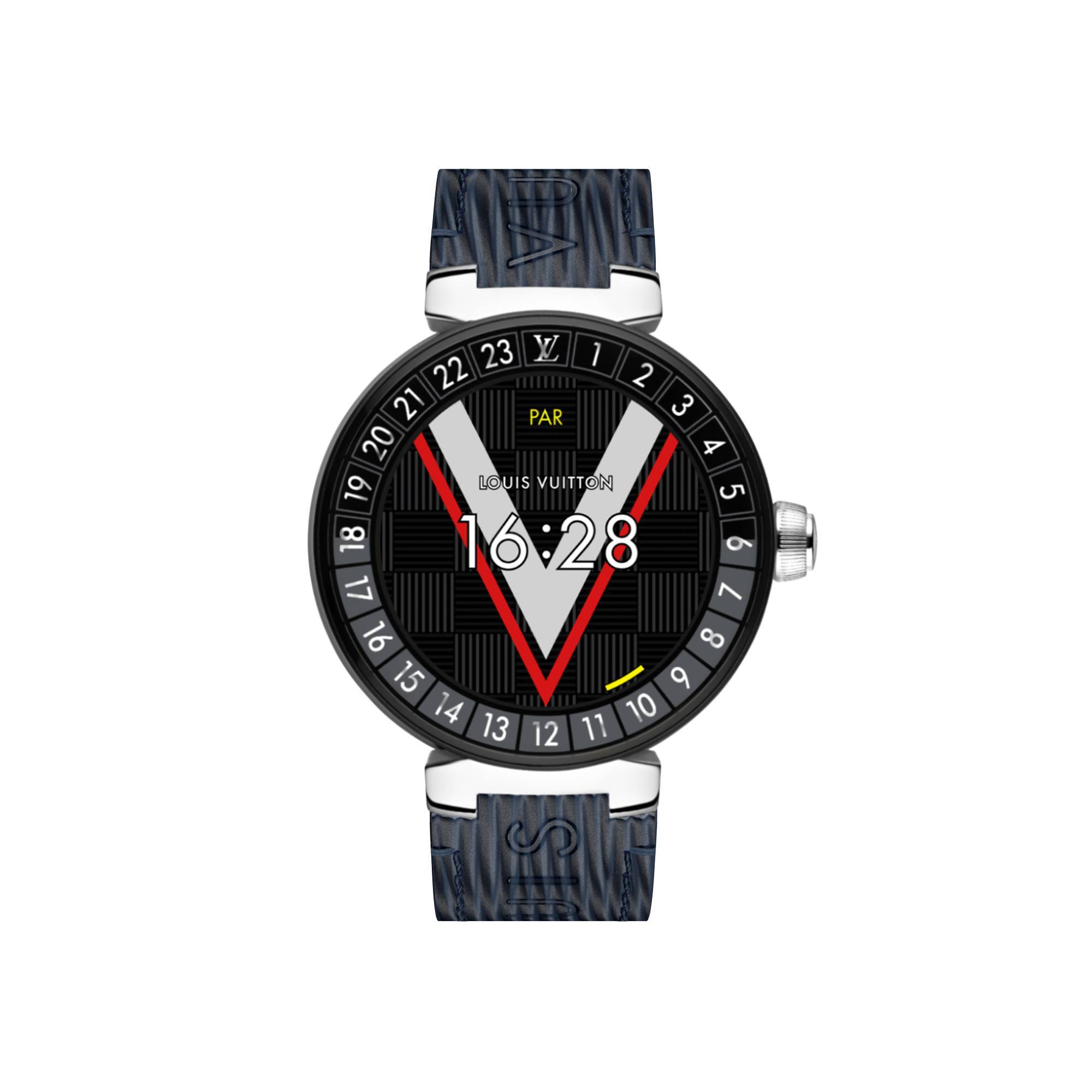 What time is it? This water-resistant smart watch is an exquisite piece that can be used as an everyday accessory. The futuristic timepiece features a sandblasted steel case with matte black PVD finishing, black sapphire glass with a steel color LV logo, and a stainless steel ardillon buckle. This piece also features the "Wear OS" by Google operating system, compatible with Android 4.4+ or higher and iPhone 5. It features Bluetooth connectivity, built-in microphone and ambient light sensor.
These fluorescent yellow Louis Vuitton wireless earphones are vibrant and fashionable. The steel circular brushed studs have black LV initials and silicone ear tips. These ultra-chic earphones can be used up to ten hours on a single charge. They also can be used independently for calls with Bluetooth connectivity, and have a durable, water resistant design.
The iPhone 11 Pro Max Bumper is a perfect combination of practicality, protection and style. This case is made of Damier graphite canvas and calf leather. It's designed for the iPhone's new triple lens camera. It has a microfiber lining and has a pocket on the back for credit cards or reciepts.
This 100% leather turquoise blue cap combines streetwear with high fashion. This eye-catching cap is made from supple Taurillon leather that has been embossed with the iconic monogram and given a rubberized finish to protect from the elements. A natural cowhide leather strap in the back provides a sleek finishing touch. This cap is also available in black.
This unique, 100% wool black suit jacket is exclusively made to order from Louis Vuitton for Men. The Sculptural Jacket is constructed with wool and then it is broken up into pieces and reassembled with embroidered yarn. This piece is a definite deconstructed version of a traditional suit jacket, that's guaranteed to make you stand out at parties.
These distinctive orange 3D Pocket Monogram Board Shorts are fashion-forward swimwear. The 100% polyester swimwear shorts are tailored from embossed monogram fabric with a textured effect and a signed palladium staple on the back. These modern shorts are great for surfing the ocean waves.
This spicy mandarin cologne from Louis Vuitton for Men is designed to awaken your senses. This fragrance has ingredients that are hand-selected from all over the world and fuse elements of the sky and earth. This exhilarating fragrance features mandarin from Italy and neroli from Tunisia for a winning combination of class and art.
This Porte-Documents Voyage bag is a refined business bag that is not only roomy, but luxurious and functional. The crocodilien mat material bag features a main compartment with zipped closure and padlock, internal duo flat pocket and an adjustable, removable strap. This is a great statement piece for high powered business meetings.
This simple, yet luxurious, tailored polo shirt is an impressive piece to wear to the country club. It features a semi fitted cut. It's 100% cotton and also includes a Damier effect patch on the chest. The Damier Pocket Polo works great with Regular Denim Pants from Louis Vuitton for Men.
These navy cotton Regular Denim Pants are tailored from authentic denim fabric. These cool comfortable pants feature a leather tab with an engraved staple on the rear waistband and pointed pockets. These contemporary pants would look great with the Reversible Camo Jacquard Bomber.
This luxurious Reversible Camo Jacquard Bomber is an ultra-lightweight piece. This navy luxury jacket from Louis Vuitton for Men has a plain exterior and a camo monogram motif on the inside. It's made from pure wool and would work great with a pair of Louis Vuitton jeans.
This monogram flannel shirt has been created in partnership with Nigo. This eye-catching piece offers a patchwork-style blend of Louis Vuitton monogram with giant Damier motif. This loose-fitting cotton shirt would be great with the matching Louis Vuitton pants.
This exquisite Shearling Aviator jacket from Louis Vuitton for Men is causal, yet classy. It's crafted from luxurious shearling and lamb leather with delicate python tapes. This black jacket includes metallic zippers and the LV Sound Design and Record Club lettering on the back. This ultra-luxurious jacket can be worn with black pants and a signature LV belt.
Travel in style, with this black Horizon Soft Duffle bag. The masculine bag features two compact wheels, roomy interior, external cane and trolley system that leaves the bag's interior completely flat. Its lightweight design includes ergonomic details, such as the TSA padlock system that can be opened and closed with one hand. This Louis Vuitton for Men travel luggage features Damier graphite canvas, cowhide leather and plastic trim, mesh lining and aluminum hardware. This is the perfect travel companion for business trips.
This large fabulous toilet pouch has monogram-coated canvas and a wide opening, so you can carry all your grooming needs. This travel accessory features a textile lining, cowhide leather trim, washable lining and gold hardware. This is perfect to carry in your Horizon Soft Duffle 65.
This magnificent, functional and lightweight garment cover hanger is great for traveling. This dark monogram canvas has a black leather trim, it double folds and has leather handles. The briefcase design helps to conveniently carry and protect expensive suits and coats. This garment bag also features nylon lining, natural cowhide leather trim, one zipped closure with protective lining and a hanger.
Carry your money and IDs in style, with this Marco Wallet from Louis Vuitton for Men. This ultra-functional and easy-to-carry wallet features a Damier graphite coated canvas exterior, cowhide leather lining and press stud coin compartment. This wallet is designed to easily fit into a back pocket or bag.
---
From golf accessories to high quality clothing, bags and even a foosball table, this list of Louis Vuitton for Men merchandise is sure to please the man in your life. The care put into every item is unparalleled amongst luxury brands, and the stylish designs are sure to catch the eye of many! Look forward to making his day with any of these highly unique gift items.
WANT TO READ MORE?
Check out this article on Trending Fashion For Men This Father's Day
💖 NEWSLETTER: DAILY READS IN YOUR INBOX 💖
Sign up to receive our picks for the best things to do, see and buy so you can relax and focus on more important tasks! Let us help you be the best version of yourself you can be!
GET MORE FROM DAILY MOM, PARENTS PORTAL

Newsletter: Sign up for updates
Facebook: @BestProductsClubOfficial
Instagram:@BestProductsClub
📌 LOVE IT? PIN IT!📌